Borescopes — inspection in harsh conditions.
Borescopes are devices designed for inspecting hard to reach, dark places. It can be the inside of a profile of engine compartment, elements of a suspension system, or air condition installation. They enable observation of very complex devices with no need for disassembly. Quite often, it is needed to inspect a particular part, especially in a garage or car workshop, when you don't have access to an inspection pit or you simply don't know what tool should be used to undo a nut you can't see. In such cases, a borescope is priceless. This article describes models: AX-B100, AX-B150, and AX-B350.
All the models are equipped with a flexible 1 m cable with a camera. It enables reaching areas with diameter of just 12 mm. These cameras are perfect for inspecting air grates, places underneath furniture, difficult to reach areas of a car, etc. The active elements of the device (probes and cameras) are protected according to the IP67 standard, which makes them resistant to dust and allows to use them in water up to 1 m. The main casing (IP54) ensures protection against dust or water splashes from any direction. This makes the camera suitable for almost any conditions. To illuminate the inspection area, the device has built-in LEDs with the option of adjusting brightness, using an adjust wheel on the grip of the borescope. Furthermore, each set contains various tips, such as a hook or a magnet, allowing you to grab small elements, and a mirror to look at different angles.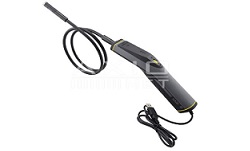 The AX-B100 model
has a USB port that also serves as power source. Operating temperature is from 0 to 45 oC. The camera has no display. The image is sent to a computer through the USB. This may be problematic in car workshops where it's difficult to find a place for a laptop, but it will definitely be useful in industry or services, where you can display an image on your monitor and save it to document e.g. a failure.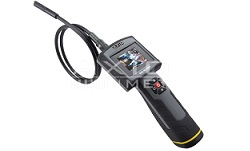 The AX-B150 model
is an inspection camera equipped with a 2.4" LCD display with 320x240 resolution. Apart from the LCD, you can also display the image using a USB port or a TV-OUT (NTSC) interface. The device is powered by four 1.5V LR6 (AA) batteries. The battery level is shown by the battery level indicator. The borescope can operate in temperatures from 0 to 45 oC. The entire camera weighs just 360g.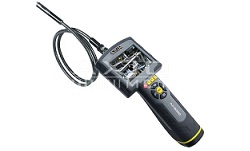 The AX-B350 model
is equipped with a large, 3.5" LCD display with 320x240 resolution, where you'll be able to see more details. Similarly to the AX-B150 model, the camera is powered by four AA batteries. This is however a more advanced device. You can set date and time, and save images to JPEG and AVI file formats. This is possible thanks to the internal storage of 64MB, which can be further expanded using an SD memory card. A particularly useful feature is digital 4x zoom. Additionally, the camera protects the batteries from too low discharge thanks to the auto-OFF function. The entire device weighs only 405g.
The described borescope models are useful in a large variety of situations where you need a camera with small diameter, and the ability to illuminate your image in hard-to-reach areas.
Parameters
AX-B100
AX-B150
AX-B350
Type of meter
inspection camera
inspection camera
inspection camera
Cable length
1m
1m
1m
Probe diameter
12mm
12mm
12mm
IP rating
IP67
IP67
IP67
Operating temperature
0...45°C
0...45°C
Dimensions
266x73x80mm
266x95x66mm
270x75x100mm
Weight
362g
360g
405g
Power supply
from USB port

4 batteries 1,5V LR6 (AA)
set without battery

4 batteries 1,5V LR6 (AA)
set without battery

Measuring instrument features

cable with camera mounted permanently
flexible cord
LED for measurement spot illumination

flexible cord
LED for measurement spot illumination
low battery indicator
TV-Out (NTSC)

automatic power-off
built-in 64Mb memory
date and time setting possibility
digital zoom x 4
flexible cord
JPEG, AVI recording format
LED for measurement spot illumination
option of memory card connection SD
TV-Out (PAL/NTSC)

Standard equipment

fixtures: mirror, hook, magnet
USB cable
video cable

fixtures: mirror, hook, magnet
video cable

fixtures: mirror, hook, magnet
software
USB cable
video cable

Interface
USB
USB