Borescope AX-B 180 - mobile and handy inspection camera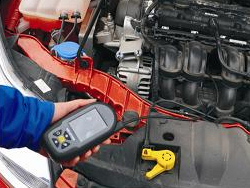 When you need to inspect hard to reach places or diagnose defects of structural components of devices, borescope AX-B180 is the right instrument to use in such situations. It allows you to identify small objects, find faults or verify the operation of the mechanism being investigated. It also provides the opportunity to observe the interior from various angles through a small inspection opening without dismantling the often highly complex equipment.
To ensure high quality and to obtain a faithful image, AX-B180 is equipped with a waterproof and dust-proof camera (IP67) with a diameter of only 9mm, viewing angle 60° and 4x magnification. It allows you to obtain a bright and balanced image in terms of contrast over the entire depth of the field of vision, which, in this case, is 2.5 cm to 30 cm. In order to provide backlight to the inspection field, the camera has 4 built-in, ultra-bright LED diodes with easily accessible brightness control without interrupting your work.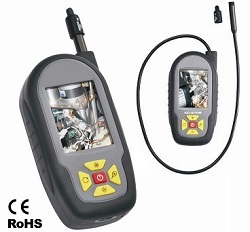 The camera image is presented on a TFT LCD 2.7" display of resolution 320x240 pixels, easy and very comfortable to operate using the function buttons arranged in the borescope housing. The function keys also support image rotation on the display each time by 1800, 4x digital zoom and the above-mentioned level of illumination of the inspection field. The device can be operated with one hand, so the second hand could be used to lead the probe.
The flexible probe cable 60 cm long is wound inside the housing, which, combined with the possibility of attaching the borescope to the belt increases the convenience of its use.
The optimal operating condition of the camera is the temperature range from 0° C to 45°C and humidity from 5% to 95%.
Independent power supply from 4 alkaline batteries or AAA rechargeable batteries allows continuous operation for about 3 hours.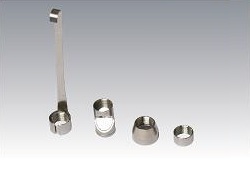 The set comes equipped with accessories for mounting the camera on the screw thread, such as:
increasing the scope of inspection and repair possibilities of the borescope. Using the magnet or hook we can grasp small elements or cables, fasten the device in the appropriate place and perform an engine inspection by the hook and drag method.
The basic weight of the borescope without battery is only 255g. The compact design allows you to attach it to your belt and facilitates use at the inspection site. It is an excellent choice for people working in cramped areas and places of limited access or tasks that require movement through narrow corridors and steep ladders.