AX-3005DS and AX-3010DS Power Supply Units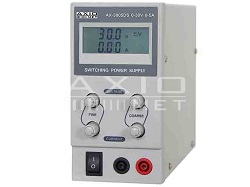 AXIOMET AX-3005DS and AX-3010DS single-channel power supply units are used in research laboratories, industry, electronic services, and among hobbyists.
Two row LCD display (3 digits) enables simultaneous readings of output current and voltage. AX-xxxxDS series switching power supply units offer:
electronic stabilization of output voltage of ≤1% + 10mV. Noise/ripple for regulated voltage is ≤200mVp-p,

electronic current stabilization within the range of ≤1% + 5mA,

stepless adjustment of output voltage within the range of 0 to 30V using two potentiometers — Coarse and Fine,

stepless adjustment, using two potentiometers, of output current limits, which protects sensitive components against damage at start-up.
Compact size of 85×160×205 mm (AX-3005DS) and 80×160×205 mm (AX-3010DS) with weight of 1.5 kg enable the power supply units to be used for starting or repairing electronic devices, also on site.
Parameters
AX-3005DS
AX-3010DS
Type of power supply
laboratory
laboratory
Kind of power supply

single-channel
switched-mode

single-channel
switched-mode

Kind of display used
LCD x2 3 digits
LCD x2 3 digits
Number of channels
1
1
Output current
0...5A
0...10A
Voltage stabilisation
≤1% + 10mV
≤1% + 10mV
Current stabilisation
≤1% + 5mA
≤1% + 5mA
Measuring instrument features

coarse and precise voltage and current adjustment
simultaneous voltage and current readout
voltage and current stepless adjustment

coarse and precise voltage and current adjustment
simultaneous voltage and current readout
voltage and current stepless adjustment

Standard equipment

mains cable
test leads with crocodile clips

Protection
anti-overload
anti-overload
Plug variant
EU
EU
Power supply
230V AC 50/60Hz
230V AC 50/60Hz
Dimensions
85x160x205mm
80x160x205mm
Weight
1.5kg
1.5kg
Voltage (regulated) ripple and noise
≤200mVpp
≤200mVpp
Output voltage
0...30V DC
0...30V DC