AXIOMET AX-T2090 cable detector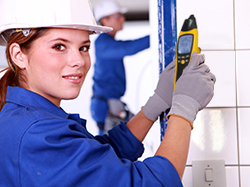 Cable detectors allow to detect cable location in walls as well as discontinuities in power lines. Professional products can also be used for locating other metallic installations (e.g. pipes or metal ventilation ducts), with no interference in external finish of a place.
GENERAL CHARACTERISTICS
AX-T2090 from AXIOMET is a professional, non-contact voltage and cable detector. It is offered in a set consisting of a transmitter, a receiver, and appropriate cables. The receiver alone is able to detect powered wires in walls, however, it acquires real precision of operation and advanced functionalities when it cooperates with the transmitter.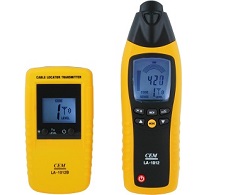 The receiver is equipped with a clear backlit display and a set of buttons. In the stand-alone mode it is capable of detecting alternating current up to approx. 0.4m. It is designed to locate wires connected to the supply voltage (range 12–400VAC; frequency of up to 60Hz).
The device is powered by 9V batteries – one for the transmitter and one for the receiver. In bipolar mode, the transmitter can be powered from the power network. The equipment is automatically turned off after one hour of inactivity.
The device is handy, lightweight, and solid. The transmitter weighs about 130g, and the receiver – 180g. Both tools are placed in a durable carrying case (weighing ca. 2kg).
ADVANTAGES OF THE TRANSMITTER
Connecting the transmitter to the detector greatly improves its capabilities:
thanks to using a frequency signal of 125kHz, the accuracy of wire location improves considerably;
increased depth of detection – up to 0.5m in bipolar mode and up to 2m, when the transmitter's ground is at the earth potential (single polar mode). The depth of detection depends on the type and the thickness of layers dividing the wires/cables and the receiver.
one detector is able to cooperate with up to 7 transmitters which, at the same time, transmit different codes. With the use of at least two transmitters, the user is able to identify a point of discontinuity in the electric installation very precisely (also grounded point of discontinuity, e.g. while driving nails) – it would be a place in which a change in detected code will be noticed.
PRACTICAL USE
AX-T2090 may be used for:
locating cables in closed and open circuits;
locating sockets, cable boxes and switches in household installations;
sorting of cables, those connected to the supply voltage as well as non-powered ones.
This device can be used for detecting cables in the walls as well as in the ground.
The equipment operates in an automatic or manual mode in which it is possible to set the level of detected signal. Transmitter's display informs about detected cables and voltage. A bar graph and numerous graphic pictograms displayed on the receiver make diagnosis of installation easier. A LED placed on a sensor head of the receiver proves to be a perfect solution for work in dark rooms.
---
Thanks to the fact that AX-T2090 detector is compliant with the requirements of PN-EN 61010 standard (CAT III 300V), it can be used to diagnose installations inside and outside the buildings.