AX-B150 – portable borescope with advanced features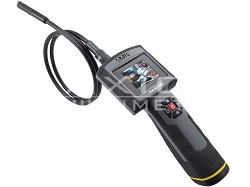 borescopeThe AX-B150 borescope is a portable inspection camera for examining hard to reach spaces. It enables you to locate any flaws and identify problems in various machines and installations. It is very easy and comfortable to use – an integrated display and batteries mean that it does not require access to a PC, smartphone, or TV.
One of the advantages of the AX-B150 borescope is its portability. Thanks to that, it can be used on a ladder to examine ventilation ducts, as well as under a car lifted on a jack. If the inspected area is darkened, the device features strong white LEDs to illuminate it. They are placed on the probe, so the light falls directly on inspected objects. The borescope needs only four 1.5V LR6 (AA) batteries, and the image from the camera is displayed on a 2.4" colour TFT LCD display with a resolution of 320 x 240 pixels.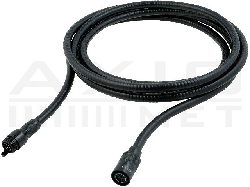 The probe of the borescope has a diameter of 12 mm. It is complaint with the IP67 standard, which means it is protected against dust and immersion in water up to 1 m deep. It was placed on a flexible, 1m long hose, the length of which proves to be sufficient in the majority of situations. However, if you need to reach a more distant place, you can also use video extensions sold separately, like the AX-BCX2 or AX-BCX3 models. They allow you to increase the range by 2 or 3m, which so far has been a rarity in basic models of borescopes.
On the grip of the AX-B150 borescope, there are 5 buttons for:
turning the device on and off,
adjusting the brightness of LEDs
rotating and enlarging the image.
The set features a video cable for connecting the camera to a TV. Thanks to that, you can get a higher quality of image, especially that the resolution of the camera sensor is 640 x 480 pixels.
What is more, the borescope allows you to view the inside of narrow tubes and any hollows in them, and even grabbing any elements located there thanks to three additional tips:
mirror tip,
hook tip
magnetic tip.
It is worth mentioning that it is a small inspection camera (266 x 95 x 66mm), and it weights merely 360g (without the batteries and the probe). A single set of batteries enables 3 hours of continuous work. The range of working temperature for the borescope is from 0 °C to 45 °C.
The device can be used for professional and amateur use in places like:

car workshops,
in hydraulic and installation works,

but also at home, to peek under heavy furniture.
---
The market offers numerous borescopes, but the AX-B150 model distinguishes itself from the competition thanks to the features available so far only in more advanced models, as well as a very attractive price.