Best clamp meters for hard-to-reach areas
The design and manner of using clamp meters hugely influences the fact, that unlike classic digital multimeters, the dimensions of these devices are crucial. AXIOMET's offer includes clamp meters unlike any other. They are only 24mm thick in their thickest point, which means they can easily be used even in hard-to-reach areas.
AXIOMET AX-353 and AX-354 meters with slim-type enclosure
When searching for a clamp meter, most users focus on the diameter of the clamps, and subsequently in the maximum diameter of a cable that can be measured. However, more and more people start to realize that the size of the meter itself is also important.
The AXIOMET AX-353 and AX-354 meters feature particularly narrow clamps and slim-type enclosure, which makes them extremely handy. This is crucial e.g. in automotive industry, where such meters are widely used.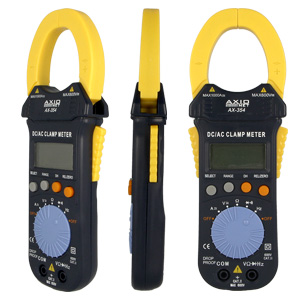 Meters especially useful in automotive applications and control cabinets
There is a trend of installing increasing numbers of electronic devices in cars, which automatically means additional wiring. Simultaneously, we can observe efforts aimed at maximizing the comfort of journeys by providing additional space for the driver and the passengers. Therefore, electric wires need to be maximally condensed. As a result of that, performing measurements in a vehicle with the use of a large clamp meter is a very difficult thing to do.
Similar problems occur in control cabinets. Currently, devices of this type feature modern drivers, power supply units, and other compact devices, but the number of their connections remains the same. Wires are extremely condensed, which makes using a large clamp meter very inconvenient. In such cases, meters in slim enclosures are a perfect solution.
Characteristics of AX-353 and AX-354
The AXIOMET AX-353 and AX-354 meters allow you to measure currents in wires with diameter of up to 38 mm. They can be held easily moved with one hand, especially that they're really light (only 150g). Both models enable measurements of alternating current, direct and alternating voltage, as well as resistance and frequency. The results are presented on 3.75-inch LCD displays. The AX-353 model can be used for measurements of capacity, temperature, and duty cycle. The AX-354 model can additionally measure direct current of up to 1000A.
The meters are compliant with the requirements of the EN61010 600 V cat. II standard. They are delivered with test leads and a case. Compact dimensions of the enclosures were achieved thanks to powering them with the use of three 3V CR2032 batteries.
Parameters
AX-353
Type of meter
AC digital clamp meter
Measuring instrument features

auto and manual ranging
automatic power-off
overflow indicator
low battery indicator
slim design

Max. diameter of measured cable
38 mm
Kind of display used
LCD 3,5 digit (3999)
AC current measuring range
400/500A
AC current measuring accuracy
±(2,5% + 5 digits)
DC voltage measuring range
400m/4/40/400/600V
DC voltage measuring accuracy
±(0,5% + 2 digits)
AC voltage measuring range
400m/4/40/400/600V
AC voltage measuring accuracy
±(1% + 3 digits)
Resistance measuring range
400/4k/40k/400k/4M/40MΩ
Resistance measuring accuracy
±(0,8% + 2 digits)
Capacitance measuring range
40n/400n/4µ/40µ/100µF
Capacitance measuring accuracy
±(4% + 5 digits)
Frequency measuring range
4/40/400/4k/40k/400k/4M/10M
Frequency measuring accuracy
±(0,5% + 4 digits)
Temperature measuring range
-20...800°C
Temperature measurement accuracy
±(3% + 1 digit)
Duty cycle factor
0.1...99.9%
Diode test
1mA, 1,5V
Continuity test
acoustic signal for R<50Ω
Dimensions
190x55x24 mm
Weight
150 g
Power supply
set without battery, 3 batteries 3V CR2032
Measurement
frequency, AC voltage, DC voltage, capacitance, AC current, resistance, temperature
Conform to the norm
EN61010 600V CAT II
Standard equipment
---
Summary
Flat enclosures of the AXIOMET AX-353 and AX-354 meters ensure not only that the devices don't use a lot of space in your toolbox, but they also make them very handy and useful in narrow spaces between wires. Obviously, there are also other important factors, e.g. the accuracy of measurements, available functionalities, or compliance with safety standards.