The most advanced function generator from AXIOMET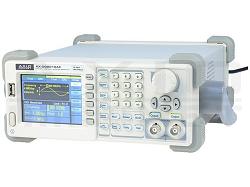 A modern function generator should be easy to use, but should also allow creating waveforms of different shapes and a wide frequency range. It is important that it enables signal modulation and communication with a PC or a laptop, facilitating the creation of custom waveforms. AX-DG2010AF fulfills all these requirements.
Dual channel arbitrary generator with a variety of waveforms
AX-DG2010AF is the most advanced model in AXIOMET's offer of generators. It may seem that it's less powerful than the AX-DG1015AF model with max. signal frequency of not 10, but 15MHz. However, the AX-DG2010AF model stands out not only because of the frequency range of generated waveforms, but also their variety:
sine and rectangle (up to 10MHz),
impulse (500µHz…5MHz),
triangle and ramp (up to 300kHz).
It can also generate noise with predefined: mean and standard deviation.
The huge potential of the generator is confirmed by the ability to generate arbitrary signals. The device has 48 predefined shapes, divided into four groups, including e.g. stepped waveforms, mathematical functions and windows, and even a sample ECG signal.
The capabilities of AX-DG2010AF
Waveform modulation (except noise) in six different ways (AM, ASK, FM, FSK, PM, and PSK).

Waveform modulation with the use of the frequency sweep functionality, allowing parameters to be changed cyclically. In this case, a user defines the initial and final frequency of the signal generated, the direction and character of changes (linear or logarithmic), as well as the time in which a single full sweeping cycle has to be completed. This function is excellent e.g. in checking the frequency characteristics of devices with the use of an oscilloscope synced with the signal from the generator (without the use of an analyzer).

Generating impulse groups (packets) - burst mode - that include a defined number of periods of a selected function created in predefined intervals. As packet creation may depend on external signals or manual control, the generator allows you to simulate environment reactions to inspected devices.
AX-DG2010AF parameters
The device has two independent channels and a 3.5" 320x240 display. It features a clear, colour LCD screen and a comfortable menu with illuminated buttons. The device has a built-in 10MHz reference frequency generator. It allows using an external source of reference signal, which is connected to the back of the device. On the back of the enclosure, there are inputs for modulating signal, external triggering, and pulse strobing, as well as sync outputs and a USB port (for connecting the device to a computer). The front panel also features a USB port. The set with the generator includes software, a USB cable, and a power supply cable.
---
Summary
The software of the AX-DG2010AF generator enables creating and archiving custom waveforms, as well as generating previously archived waveforms. More importantly, signal parameters can be read at any point of a waveform. Despite its advanced features, the device has compact dimensions (105 x 281 x 229mm), which means it easily fits in on any desktop.